Fascinating Study in Japan
World Class Science and Technology
Study in Japan with Scholarship-2021
You can learn about cutting-edge science, technology and medicine, etc.
Despite its scarce resources, Japan was able to grow economically and become a leading country in manufacturing precisely because of the advanced knowledge and technology fostered by its excellent education system. Using its state-of-the-art science, technology and medicine, Japan has introduced many products to the world, including electric vehicles, digital cameras, optical fibers and the artificial heart.
Instant noodles, which have changed the dietary life of the world, and Karaoke, are also innovations of Japanese origin. The practice of transforming innovative ideas into creative products goes far back into Japanese history. Japanese schools focus not only on academic achievements but also on the development of human quality. This aspect of Japanese schools is highly appreciated by international students who think the studying experience in Japan helps them after they start working.
Fascinating Culture
Cultural heritages such as Mt. Fuji and Japanese cuisine and "Omotenashi" hospitality
Surrounded by the sea, Japan enjoys all four seasons. In Japan, there are a number of world heritage sites, such as Mt. Fuji, a symbol of Japan, as well as the Himeji Castle and Itsukushima Shrine. Washoku (traditional Japanese cuisine), a registered intangible cultural heritage, is a colorful and healthy food that uses seasonal ingredients and contributes to Japan being one of the countries with the world' s highest life expectancy.
Japanese people are known to be hardworking and attach importance to discipline. "Omotenashi" hospitality, the mentality of caring for guests by giving them the highest priority, is second nature to Japanese people, and thus international students are always welcomed warmly.
Conducive Living Environment
Japan is known as a good place to live with its low crime rate. Even if you misplace something, it will be returned to you most of the time. Japan's public transportation system boasts of its on-time departure and arrival and helps you reach your destination safely and securely.
With a well-established health insurance system, you can receive advanced medical care when you fall ill with only a small fee. Even international students who feel anxious after leaving their home country can find some peace of mind while staying in Japan.
Various International Students
International students from more than 170 countries and regions across the world
About 140,000 international students from more than 170 countries and regions of the world are studying at higher educational institutions in Japan. These students can broaden their horizons through exposure to Japanese as well as diverse cultures of the world. Japan is a tolerant country where freedom of religion and thought is guaranteed by the constitution.
Japanese Educational System
In Japan, higher education starts upon the completion of 12 years of education: elementary education (6 years of elementary school) and secondary education (3 years of lower secondary school and 3 years of upper secondary school).
There are 5 types of higher education institutions that international students can be admitted to, which are 1) Colleges of technology, 2) Professional training colleges (postsecondary course of specialized training colleges), 3) Junior colleges, 4) Universities (undergraduate) and 5) Graduate schools. Depending on the founding bodies, these higher education institutions are categorized into three types: national, local public and private.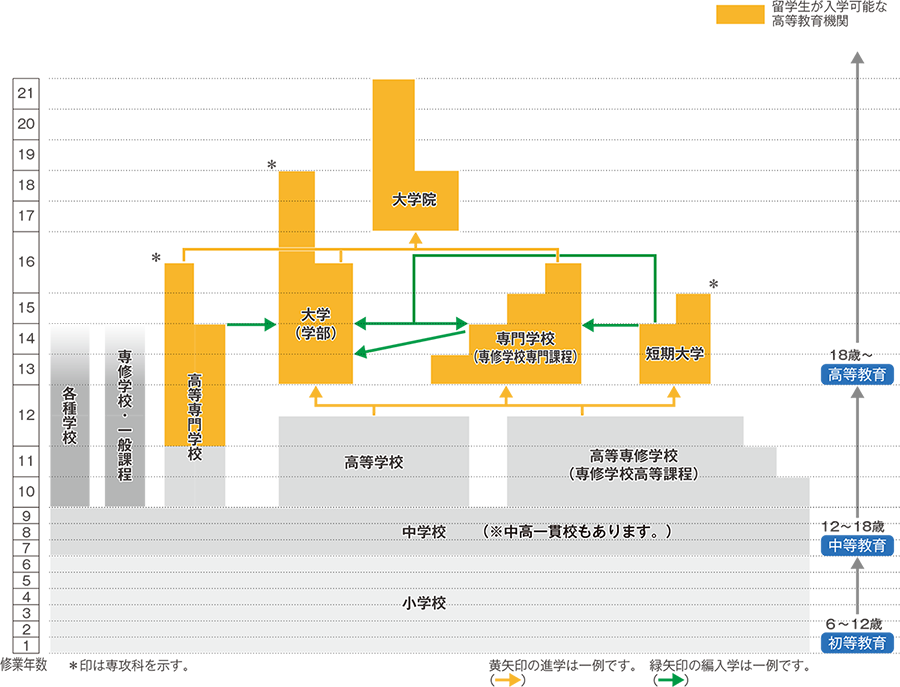 After completing your major at a junior college or college of technology recognized by the National Institution for Academic Degrees and University Evaluation (NIAD-UE), you can obtain your "bachelor's degree" if you pass the examination set by the NIAD-UE. Please check for further details from the school you are applying to.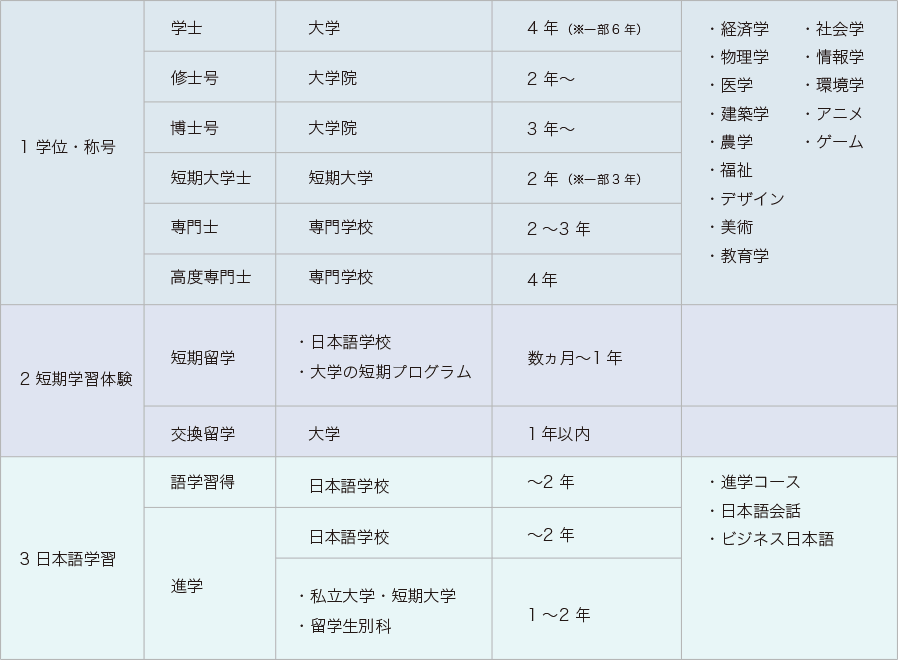 Most higher educational institutions in Japan set their academic year from April to March of the following year. Many higher educational institutions adopt the semester system, and most start their academic year in April, although there are also some that begin in autumn.

Number of higher education institutions
National
Local public
Private
Total
Colleges of technology
51
3
3
57
Professional training colleges
9
184
2,586
2,779
Junior colleges
–
17
306
323
Universities
(Undergraduate)
86
94
615
795
Graduate schools
86
84
473
642
Products
Price
Rice (5 kg)
2,224 yen
Bread (1 kg)
621 yen
Milk (1,000 ml)
216 yen
Eggs (10 eggs)
222 yen
Apples (1 kg)
447 yen
Cabbage (1 kg)
118 yen
Carbonated drink (500 ml plastic bottle)
108 yen
Hamburger
180 yen
Gasoline (1 liter)
132 yen
Toilet paper (12 rolles)
643 yen
Movie ticket
1,833 yen
Taxi (4 km)
1,460 yen
Average rent by area
JPY
National average
35,000
Hokkaido
28,000
Tohoku
27,000
Kanto
41,000
Tokyo
45,000
Chubu
28,000
Kinki
35,000
Chugoku
25,000
Shikoku
25,000
Kyushu
24,000
| | |
| --- | --- |
| Products | Price |
| Rice (5 kg) | 2,224 yen |
| Bread (1 kg) | 621 yen |
| Milk (1,000 ml) | 216 yen |
| Eggs (10 eggs) | 222 yen |
| Apples (1 kg) | 447 yen |
| Cabbage (1 kg) | 118 yen |
| Carbonated drink (500 ml plastic bottle) | 108 yen |
| Hamburger | 180 yen |
| Gasoline (1 liter) | 132 yen |
| Toilet paper (12 rolles) | 643 yen |
| Movie ticket | 1,833 yen |
| Taxi (4 km) | 1,460 yen |
| Average rent by area | JPY |
| National average | 35,000 |
| Hokkaido | 28,000 |
| Tohoku | 27,000 |
| Kanto | 41,000 |
| Tokyo | 45,000 |
| Chubu | 28,000 |
| Kinki | 35,000 |
| Chugoku | 25,000 |
| Shikoku | 25,000 |
| Kyushu | 24,000 |
Japanese Government (MEXT) Scholarship Students
Japanese Government (MEXT) Scholarships cover the cost of tuition, provide a monthly stipend to put toward living expenses, and provide round trip airfare, and international students who receive the scholarships are called 'MEXT Scholarship Students'.
Privately-Financed International Students
International Students other than 'MEXT Scholarships Students' called 'Privately-Financed International Students', and will have opportunities to apply for other scholarships.
Degree Programs in English
As Japanese universities become more globalized, there have emerged programs at universities and graduate schools in which students can obtain a degree by taking classes only in English.
Short-term study programs
'Short-term study program' refers to a program of any period from a few weeks to a full school year for the purpose of learning cross-cultural experiences, Japanese language, etc. at different universities, but which does not lead to a degree.
University transfer programs
Many universities offer university transfer/inter-university transfer programs in different formats and requirements.
Examination used for Studying in Japan
There are a few examinations students may be required to take if they wish to study in Japan. Be sure to check the admissions guidelines of your school of choice and sit for the designated exam. Some examinations are only held a few times a year, so it is important to check well in advance.
The EJU (Examination for Japanese University Admission for International Students)
The EJU is an examination designed for foreign students who wish to enroll and study at Japanese universities (undergraduate), etc. It tests basic academic knowledge (Science, Japan and the World, and Mathematics). There is no limitation on the number of times you can take the EJU or on the age of the examinee. EJU scores are valid for two years.

485 universities, or 60% of Japanese universities, including most national universities require the submission of EJU scores as part of the application. Other benefits of the EJU are that some schools offer "prearrival admission" where students who take the EJU can be admitted to the school prior to arriving in Japan, and that there is an honors scholarship for students who achieve high scores on the EJU.

*Some schools only accept test scores from a certain date, so please check your preferred school's application requirements.
Here is a list of schools that include the EJU as part of their admissions requirements.
Examination period and location
【Examination period】
Held two times per year
First round: June (Application in February~March, notification of results scheduled for around July)
Second round: November (Application in July, notification of results scheduled for around December)
【Location of examination】
16 cities within Japan
14 countries and regions outside of Japan, including 18 cities
India (New Delhi), Indonesia (Jakarta, Surabaya), Korea (Seoul, Busan), Sri Lanka (Colombo), Singapore, Thailand (Bangkok, Chiang Mai), Taiwan (Taipei), the Philippines (Manila), Vietnam (Hanoi, Ho Chi Minh), Hong Kong, Malaysia (Kuala Lumpur), Myanmar (Yangon), Mongolia (Ulaanbaatar), Russia (Vladivostok)
EJU Application Process
Subjects
The EJU tests an individual's Japanese proficiency, as well as their basic understanding of "Science," "Japan and the World," and "Mathematics." The "Japanese" subject tests an individual's ability to study Japanese at the university level (academic Japanese), and it includes a reading comprehension, listening comprehension, and listening/reading comprehension section for a total of 400 points and 50 points total for the writing section.
The "Science," "Japan and the World," and "Mathematics" sections are worth 200 points each, and the tests are offered in both English and Japanese.
For "Science," you will choose two subjects from physics, chemistry, and biology, and for "Mathematics" you will be taking "Course 2," which tests advanced mathematics skills necessary for the undergraduate level, as well as "Course 1," which is for other undergraduate level courses.
When taking the EJU, you should take the subjects and language of examination designated by your preferred university.

*Note: You cannot select both "Science" and "Japan and the World."
*Note: "Japan and the World" is a subject unique to the EJU, and it is a combination of three subjects taught at the high school level in Japan, including Civics, which focuses on politics and economics, Geography, and History.
Advantages of taking the EJU
Scholarship reservation system
Privately-funded international students who achieve a high score on the EJU and wish to enroll in a Japanese university (undergraduate level), junior college, technical college (third year and above) or vocational school are eligible for MEXT's "scholarship reservation system," in which they can receive a scholarship for a fixed period of time, as long as they meet their school's requirements throughout the entire duration of their studies.
Scholarship amount: 48,000yen/month
Application method: When applying for the EJU, indicate your interest in applying for the scholarship
Selection method: students who achieve exceptionally high scores on the EJU will be selected
Details: International student scholarship "reservation system"
Prearrival admission
Some schools offer "prearrival admission," meaning applicants can apply for and receive an offer of admission from the university while remaining in their country/region of residence. You can search for schools offering "pre-arrival admission" below. The list is updated as needed. For details regarding "pre-arrival admission," please contact each school directly.
>Detailed information about prearrival admission
EJU past examination questions
You can use the following site to access a sample showing questions from past exams. There is also a set of questions that you can use to review for the EJU examination.
Academic Fees
Academic fees in Japan are not as high as those in the United States and the United Kingdom. The admission and tuition fees, etc. for the first year in an undergraduate program in Japan total around ¥820,000 (US$7,200)* at a national university, ¥930,000 (US$8,200) at a local public university, and ¥1,100,000 (US$9,700) to ¥1,640,000 (US$14,400) at a private university (excluding medical, dental and pharmaceutical schools).
In addition, Japan's scholarship programs and tuition exemption/reduction programs are more extensive than those in other countries.

The first academic year's school expenses include the admission fee, tuition fee, facility/equipment usage fee, among other things. Please note that admission fee is payable for the first year only.
*This does not apply for some national universities.
Average academic fees for the first academic year
Unit: JPY and USD (calculated at the rate of US$1 = ¥114)
●Graduate schools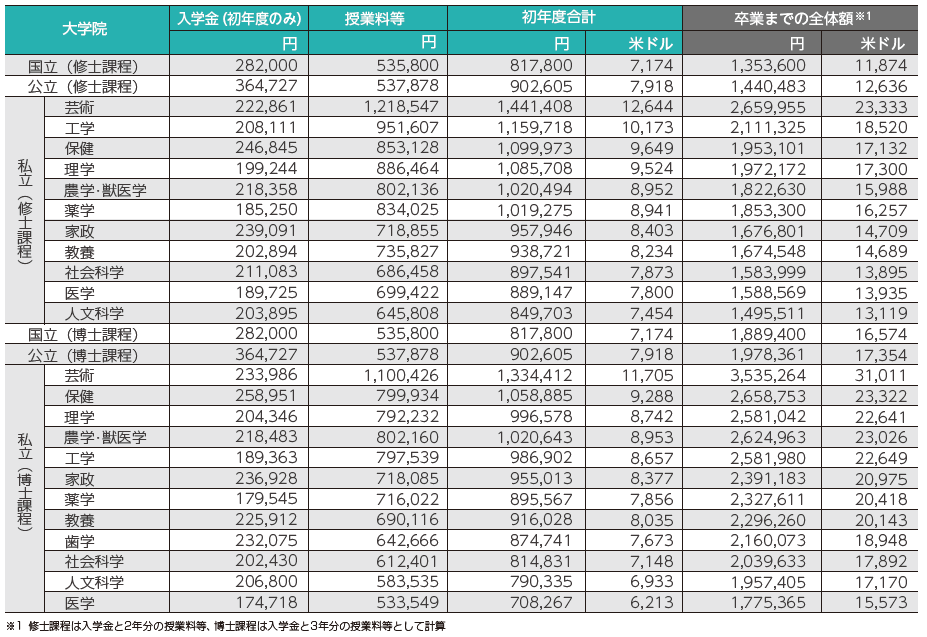 ●University undergraduate programs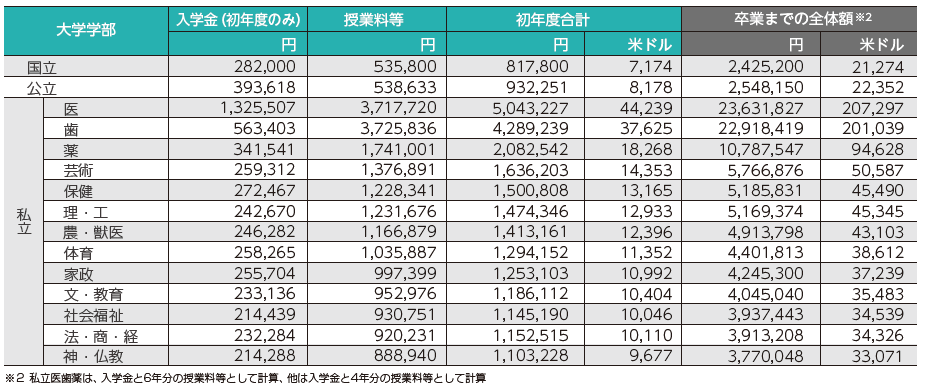 ●Junior colleges

●Colleges of technology

●Professional training colleges

●Japanese language institutes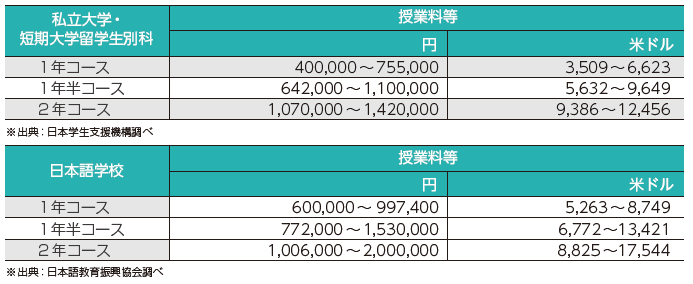 Reference: Tuition fees and other university expenses in the US and UK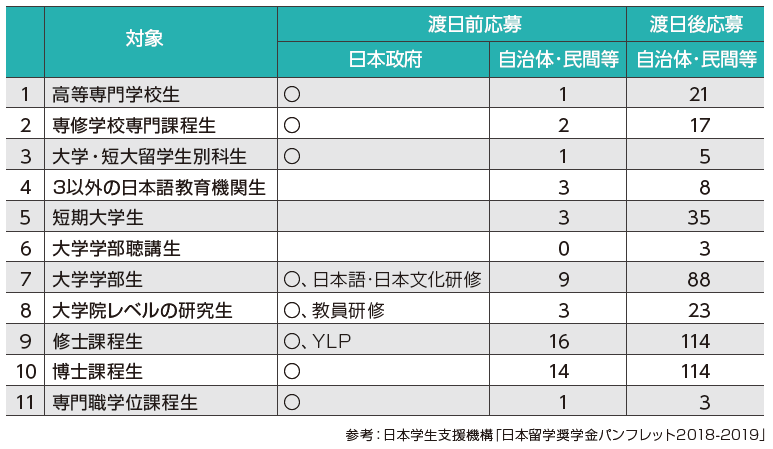 Scholarships
In Japan, only a few scholarships cover all the costs of study; most aim to cover just a portion of the student's living expenses and tuition fees. Therefore, calculate the total expenses of studying in Japan to create a financial plan that does not rely solely on scholarships but rather your own funds as well.
Types of financial assistance available
Scholarships
Tuition reduction/exemption systems (30%, 50% or 100% exemption, etc.)
When to apply
Before coming to Japan: Financial aid you can apply for prior to coming to Japan (very few options)
After coming to Japan: Financial aid you can apply for in Japan after coming to the country and enrolling in a school (many options)
Eligibility and the approximate number of organizations offering relevant financial aid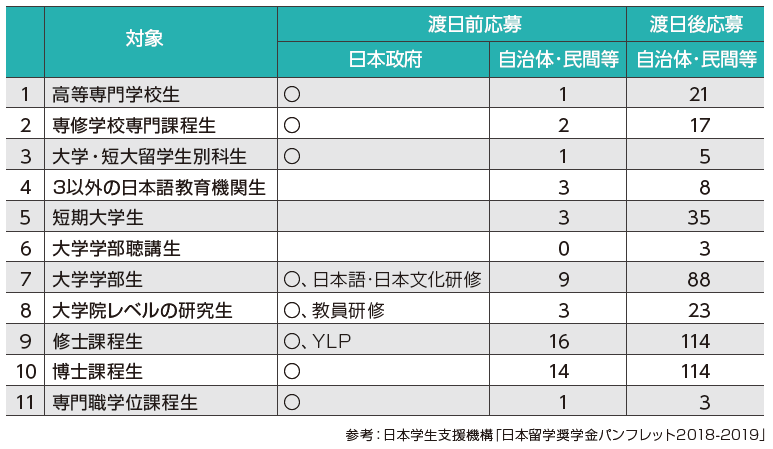 Application requirements
Application requirements include 1) age, 2) country or region, 3) school enrolled in in Japan, 4) major or specialty field, etc.

Screening examinations
Screening for most financial aid is conducted using only the documents submitted, but some organizations require an interview or a written examination testing your general education, knowledge in your field and/or language abilities.
The majority of financial aid requires you to apply through the school you are enrolled in. (Please confirm the relevant details at your school's International Student Office.)
Scholarships you can apply for before you arrive in Japan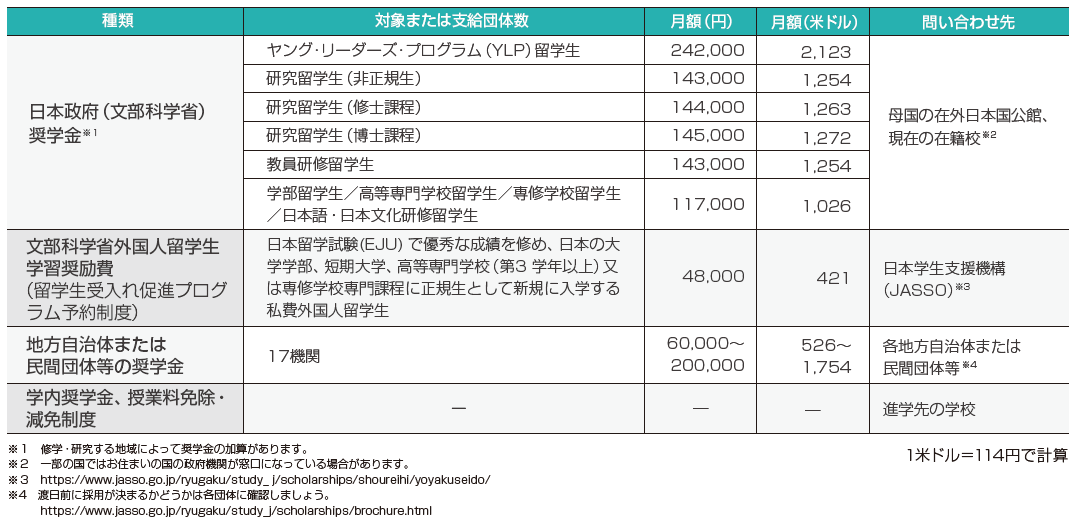 Scholarships for exchange students under inter-university exchange agreements, etc.

Scholarships you can apply for after you arrive in Japan

Find a scholarship/tuition reduction/exemption system
You can also look up scholarship information on the following websites:
Immigration procedures and status of residence related to studying abroadProcedure for Changing Your Status of Residence
Living Cost and Price
Price of goods
Prices of major products in Japan
| | |
| --- | --- |
| Products | Price |
| Rice (5 kg) | 2,224 yen |
| Bread (1 kg) | 621 yen |
| Milk (1,000 ml) | 216 yen |
| Eggs (10 eggs) | 222 yen |
| Apples (1 kg) | 447 yen |
| Cabbage (1 kg) | 118 yen |
| Carbonated drink (500 ml plastic bottle) | 108 yen |
| Hamburger | 180 yen |
| Gasoline (1 liter) | 132 yen |
| Toilet paper (12 rolles) | 643 yen |
| Movie ticket | 1,833 yen |
| Taxi (4 km) | 1,460 yen |
The cost of living
The average monthly expenses (excluding academic fees) of an international student are shown below. The cost of living in metropolitan areas is higher than in rural areas.
| | |
| --- | --- |
| Average rent by area | JPY |
| National average | 35,000 |
| Hokkaido | 28,000 |
| Tohoku | 27,000 |
| Kanto | 41,000 |
| Tokyo | 45,000 |
| Chubu | 28,000 |
| Kinki | 35,000 |
| Chugoku | 25,000 |
| Shikoku | 25,000 |
| Kyushu | 24,000 |
Source: Lifestyle Survey of Privately Financed International Students 2019 (JASSO)
Accommodation
Although student dormitories operated by local governments and universities are available, approximately 75% of international students livie in private houses or apartments. It is advised that you begin doing research on accommodation as soon as you receive notification of your acceptance to the university.
You can find information regarding accommodation 1) at the school's international student office, 2) online, or 3) by checking with real estate agents in the area you wish to live in.
Student dormitory
Advantages
Lower rent and overall expenses compared to apartments (no need for shiki-kin [security deposit], rei-kin [gratuity money] or renewal fees)
Student dormitory rooms may come equipped with electrical appliances and/or other furniture
Disadvantage
Due to limited numbers of rooms available, not all students can stay in dormitories.
Rules such as curfew and wake-up time
Shared kitchen, toilet and bathroom
Apartment
Advantages
The freedom to live according to your own lifestyle
Development of independence and an understanding of finances Disadvantages
Disadvantage
In many cases, you will have to pay shiki-kin (security deposit equal to a few months' rent), rei-kin (gratuity money), real estate agent's commissions, or other fees in advance.
Complicated rental agreements and a need to find a guarantor
Need to purchase all furniture and electrical appliances
Joint guarantor
A joint guarantor is required when renting an apartment in Japan. If you do not pay the rent in time or cause damage without paying for repairs, the landlord can demand that the joint guarantor pay for the overdue rent or repairs. There is a system in which school-related persons (student office or teaching staff) can serve as joint guarantors for international students with limited Japanese connections. A joint guarantor may not be needed if you conclude a contract that requires the payment of a guarantee charge.
Comprehensive Renters' Insurance for Foreign Students Studying in Japan
This insurance program, which is managed by the Japan Educational Exchanges and Services (JEES), is designed to cover unexpected emergencies, such as fires, and to help an international students avoid unnecessarily inconveniencing his/her joint guarantor. To find out if you are eligible for this insurance program, please contact the school in which you are currently enrolled or will be enrolled.
Insurance
National Health Insurance (NHI)
In Japan, a national health insurance system is available to reduce medical costs.
Foreign residents who will be staying in Japan for three months or more have to subscribe to the National Health Insurance program (NHI; also known as "Kokuho").
Note: Students who will be studying in Japan for less than three months should contact the school where they will be studying.
Registration procedures
Register for the National Health Insurance at the municipal office after completing resident registration in your local municipal office.
Health insurance premium
Health insurance premium is calculated according to your previous year's income(incl. part time job) Unless you make a declaration of your incom, it wouldn't be caluculated accuraetely.You need to hand in your declaration to the municipal office.
Reduction of health insurance premium
Your previous year's income wouldn't reach certain standard, the amount of your health insurance premium would be redued.To receive this reduction,you need to declare your income to the municipal office.Even though your income is nil or low, declaration is needed to receive reduction.
Coverage
When receiving treatment for injuries or illnesses, you have to present your insurance card to be eligible for the discounted payment. Since 70% of the total medical cost is covered by the National Health Insurance, you will need to pay 30% of the total medical bill. Take note that the medical cost for treatments not covered by the insurance scheme has to be paid in full at your own expense.

The National Health Insurance program has a system for refunding medical expenses that exceed your individual limit if your medical costs in a single month are high. In addition, if you need to be hospitalized, etc., you can apply for and receive an eligibility certificate that entitles you to receive the ceiling amount in advance. This will allow you to keep the amount you pay at the hospital to your individual limit.
Accident/property insurance and mutual aid (kyosai)
To cover expenses incurred by an unexpected accident, etc. that is not covered by National Health Insurance, there are casualty insurance plans and personal liability insurance plans that international students can register for.
For example, the following cases would be covered:
If the oil you are using to deep-fry foods catches fire and burns your kitchen, requiring the walls to be redone.
If you ride a bicycle and injure someone else, and must pay for their medical expenses.
If your room is burglarized while you are not there, and items, such as your personal computer or camera, are stolen.
Information on various types of insurance will be provided by your school. It is a good idea to take them into consideration.
University CO-OP's Kyosai
A university co-op insurance system you can enroll in while attending university.
Finding Municipal SupportFinding Municipal SupportList of Prefecture and Municipality Websites

Web Japan – Japan Links
Each municipal government offers its own service for international students, such as homestay, events and scholarships. Please inquire at the municipal office in your area to find out what they offer.

A Daily Life Support Portal for Foreign NationalsAbout CLAIR (Council of Local Authorities for International Relations)

CLAIR's webpage
CLAIR plays a wide range of roles for regional internationalization. It is a common organization operated by each prefecture and government-designated city.
Multilingual Living Information
This website has a wealth of information for the benefit of foreign nationals in Japan.

Job & career in Japan
Part-time Work
Approximately 76% of privately financed international students in Japan are working part-time. They earn about JPY 59,000 (US$518) per month on average.
By solely depending on part-time work, it is impossible to cover all school expenses and cost of living. Be sure to make an appropriate financial plan so that you do not have to depend too much on income from part-time work.
Key points to consider when deciding on part-time work:
Do not get distracted from your purpose–studying in Japan — or work so hard that you damage your health.
Will this job hinder to your studies?
Will you be affected the following day by working long hours or late at night?
Wages and payment method
Are your wages paid daily, weekly or monthly? Are your wages paid in cash or via bank transfer?
Is the work safe?
Is your working environment safe? Is there insurance against on-the-job accidents?
Ask the school you are enrolled in to provide you with information on good potential part-time jobs for you.
Types of part-time job in which international students are employed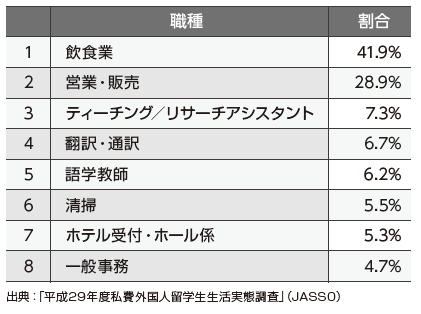 Hourly rate for part-time job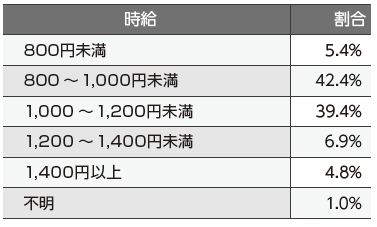 Internship
Internships allow students who have yet to graduate gain experience in positions related to their major or future career by working in companies. Some universities recognize internships as part of the educational curriculum and give academic credit for it. Please inquire directly with your school about the availability of internship programs at the school and the possibility of earning course credit.
If the internship comes with an income, you need to obtain "permission to engage in activity other than that permitted under the status of residence previously granted." If you wish to do an internship that will require you to work more than 28 hours per week, please apply for "permission to engage in activities other than that permitted under the status of residence previously granted." This requires you to submit materials that make clear the nature of the internship to a regional immigration services bureau.
The difference between a part-time job and an internship
Part-time job: Work in which you are paid money for your labor.
Internship: Work experience in which you are given a work opportunity that will be useful for your career plans, etc. Internships are often unpaid.
How to find an internship
University career center: Be sure to check the office's bulletin board regularly.
Job search websites: These sites post information about a large number of internships in various industries and occupations.
Dedicated internship agents: These agents are highly knowledgeable about companies seeking applicants for their internships, so mismatches between students and companies are much less likely.
Status of residence for students of foreign universities entering Japan for an internship
When a student from a foreign university comes to Japan for an internship based on a contract or agreement with a Japanese corporation or other such entity, as a part of the university' s credit-earning curriculum, the status of residence will be one of the following, depending on whether or not there is remuneration, and depending on the length of stay: "Designated Activities," "Cultural Activities," or "Temporary Visitor."  The Ministry of Economics, Trade, and Industry (METI) Japan Internship Program
(only for current students and graduates of foreign universities)

METI conducts a project to promote internship programs at medium-sized Japanese companies, targeting young people from outside of Japan.
Inquiries: Technical Cooperation Division, Trade and Economic Cooperation Bureau, METI
TEL:(+81)3-3501-1937   Employment Service Centers for Foreigners(Tokyo・Nagoya・Osaka)
These centers offer employment information, career consultation, and job recommendations, in addition to accepting internship applications.
Inquiries:
Tokyo: https://jsite.mhlw.go.jp/tokyo-foreigner/
Nagoya: https://jsite.mhlw.go.jp/aichi-foreigner/
Osaka: https://jsite.mhlw.go.jp/osaka-foreigner/ 
Employment in Japan
1.Employment in Japan
"We would like to hire talented personnel regardless of nationality," "We need personnel who can speak foreign languages and understand foreign situations," "We would like to actively hire personnel with diverse backgrounds." In Japan, there are a growing number of companies that operate in line with these statements, and the hiring of international students is increasing.
However, it is still not easy for an international student to be hired in Japan. The JASSO website listed below contains the experiences of job seekers like yourself as well as job search event information; be sure to look through these materials and start your job hunt early.
Chapter1.Job situation in Japan
Chapter3.Schedule of Job Hunting
Chapter4.Employment examination
Chapter5."Status of Residence" permit



2.Collecting information about job opportunities
1)Utilize employment magazines
For information regarding Schedule for finding full-time employment, please refer to the following guidebook:
2)Utilize the Employment Service Center for Foreigners
From the viewpoint of enhancing international competitiveness, the Ministry of Health, Labour and Welfare is promoting the employment of international students in the professional and technical fields, including employment support to international students in Japan.
Furthermore, the Ministry of Health, Labour and Welfare is providing international students with a variety of job-finding information through the Tokyo, Nagoya, and Osaka Employment Service Center for Foreigners, employment support (career guidance) starting from an early stage after admission, an internship program, and job interview meetings.
Main contents of support
Employment guidance for international students
Cooperation with universities (visit guidance)
Internships for international students
Implementation of job interview meetings for international students
Career counseling and job placement for international students
3)Utilize the Internet
Utilize not only information websites for the employment of international students but also information websites for Japanese students.
Recently, an increasing number of companies have been opening information on employment opportunities on their websites and accepting inquiries by e-mail.
4)Job fairs and Participation in Seminars
Many companies hold job fairs and seminars without specific selection at a venue. You will understand the companies by attending such fairs and seminars. Participate in them actively.
Seminar information is published on each corporate websites and job information websites. You can search information on such fairs and seminars, including the opening days, on each job information websites. Seminar information is constantly updated. Frequently check it.
3.Consulting Services for Foreign Workers
Telephone Consultation Service for Foreign Workers to get advice on working conditions
4.What to do if you cannot find a job
Even if you are unable to find a job before graduation from the Japanese university※1 or professional training college※2, you can still continue to engage in job-seeking activities in Japan for one more year after graduation by changing your status of residence from "Student" to "Designated Activities."
The period of stay of "Designated Activities" is six months, and as a rule, only one additional six-month extension is allowed※3. For more information on procedures, please inquire at a regional immigration bureau.
※1 Includes junior colleges and graduate schools. However, this does not include preparatory Japanese language program students, audit students, credit-earning students and research students
※2 Limited to those who have acquired a diploma.
※3 If you fulfill certain requirements, you may continue looking for a job into your second year after graduation.
Contact Information
Overseas Representative Offices
JASSO Japan Educational Information Centers
Indonesia
TEL (+62) 21-252-1912
JASSO Japan Educational Information Center, Jakarta
Summitmas Tower Ⅱ, 2nd Floor, Jalan Jenderal
Sudirman KAV 61-62 Jakarta 12190 INDONESIA
info@jasso.or.idWeb: http://www.jasso.or.id/
Facebook: https://www.facebook.com/JASSO.indonesiaWhatsApp: https://api.whatsapp.com/send?phone=62212521912
Thailand
TEL (+66) 2-661-7057
JASSO Japan Educational Information Center, Bangkok
10F Serm-mit Tower, 159 Asok-Montri Rd.,
Bangkok 10110 THAILAND
info@jeic-bangkok.org Web: https://www.jeic-bangkok.org/
Facebook: https://www.facebook.com/JASSO.Thailand
Vietnam
TEL (+84) 24-3710-0226
JASSO Vietnam Office
4th Floor, CornerStone Building, 16 Phan Chu Trinh,
Hoan Kiem, Hanoi, VIETNAM
info@jasso.org.vn Web: https://www.jasso.org.vn/
Facebook: https://www.facebook.com/JASSO.Vietnam
Korea
TEL (+82) 2-765-0141
JASSO Japan Educational Information Center, Seoul
#702 Garden Tower, 84 Yulgok-ro, Jongno-gu,
Seoul 03131 REPUBLIC OF KOREA
jasso@jasso.or.kr Web: https://www.jasso.or.kr/
Facebook: https://www.facebook.com/JASSO.KoreaInstagram: https://www.instagram.com/jasso.korea/
Malaysia
TEL (+60) 3-2287-0812
JASSO Japan Educational Information Center, Kuala Lumpur
A-7-5, Northpoint Offices, Mid Valley City,
No.1, Medan Syed Putra Utara, 59200 Kuala Lumpur, MALAYSIA
enquiry@studyinjapan.org.myWbe: http://www.studyinjapan.org.my/
Facebook: https://www.facebook.com/JASSO.MalaysiaOverseas representative offices handle the following matters:
Provide information and counseling by e-mail, telephone, mail or in person
Provide access to school brochures, school prospectuses and reference books on study in Japan
Provide information at local education fairs.
Copy from-https://www.studyinjapan.go.jp
Join to Chat