Corona is No 1 Risk in USA :
What is the Federal Government Doing to Fight Corona Virus.Corona : #1 Risk in America.
Corona is No 1 Risk in USA : In March, President Trump declared a national emergency over the corona virus pandemic, effectively freeing up to $50 billion in federal funds to help states and territories fight the spread of the virus, which he said would include expanding access to testing.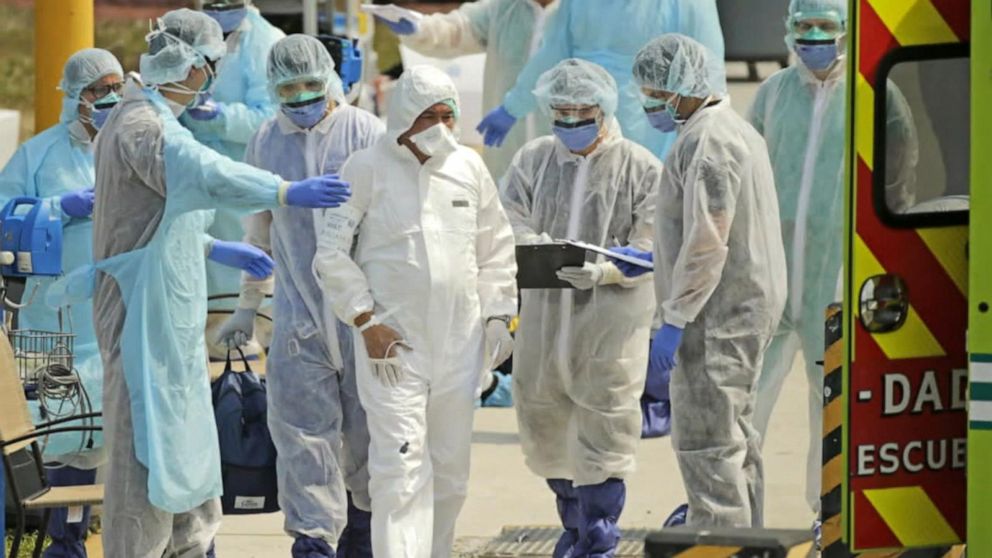 Still, there have been many issues with the availability of the corona virus test. Though testing capacity has improved, there are still widespread shortages. In many areas, state health officials and medical providers say they are unable to test as many people as they would like to, and tests remain available only to those who meet specific criteria.
Public-health officials say that far more testing — for both the virus and antibodies — will be needed in order to safely reopen the economy.Speaking April 27, President Trump announced a plan to increase federal support to states to provide increased testing, saying that the U.S.
would "double" the number of tests it had been conducting.Currently, the U.S. is conducting about 300,000 tests a day. While an improvement, experts say this still falls far short of the number of tests needed, which is more like 5 million tests a day by June and 20 million tests a day by late July.
On March 19, Secretary of State Mike Pompeo announced that the U.S. would close its borders with Canada and Mexico, barring entry to all nonessential travelers.
 President Trump has also barred entry of all foreign nationals who have been in high-risk countries, including China, Iran, and much of Europe, within the last 14 days. The CDC has advised against all nonessential travel throughout most of Europe, South Korea, China, and Iran and has advised older and at-
risk Americans to avoid travel to any country.On March 27,President Trump signed a $2 trillion stimulus plan, the largest in modern American history, which will send direct payments of around $1,200 to millions of Americans who earn less than $99,000, along with an additional $500 per child.
Corona is No 1 Risk in USA
The first round of deposits went out on April 11. The plan also substantially expands unemployment benefits, including extending eligibility to freelance and gig workers, and provides aid to businesses and companies in distress.
Treasury Secretary Steven Mnuchin has extended the tax-filing deadline to July 15, and President Trump signed another $484 billion relief package in late April, which will provide aid to small businesses and funding for hospitals and testing.
On May 15, the House approved a new $3 trillion relief package, which would include nearly $1 trillion in aid to state and local governments, as well as another round of $1,200 payments to Americans.Researchers have made a number of early steps toward a vaccine that look promising.
A corona virus vaccine that has been tested in eight people appears to be safe and effective, according to the manufacturer, Moderna, which plans to begin additional tests soon.On May 5, Pfizer and the German pharmaceutical company BioNTech announced that they were beginning human trials for a possible coronavirus vaccine in the U.S., and the U.S. government has pledged to provide up to     $1.2  billion for vaccine research   to  the drug company AstrZeneca.However, U.S. government officials have said that producing a widely available vaccine could take a year to 18 months.On Monday night, President Trump Threatened to permanently cut off U.S.
funding to the World Health Organization, which he has accused of failing to act quickly and aggressively to stop the early spread of the virus — a criticism that has been leveled at his own administration. Trump halted funding to the WHO last month in an apparent attempt to shift the blame for the fallout from the pandemic, a decision that was met with widespread criticism from global leaders.
What should I do to minimize my coronavirus risk?

Corona : #1 Risk in America: In most cases, COVID-19 is not fatal, but it appears to pose the greatest risk to elderly people and those with preexisting conditions that compromise their immune systems. According to the CDC, eight out of 10 deaths from COVID-19 in the U.S. have been adults age 65 and older. Doctors and medical workers may also be at greater risk, due to their higher-than-average odds of exposure, and data shows that in many areas, including New York, black and Latino Americans have been dying at disproportionate rates.
On April 10, President Trump said that the CDC is now recommending that Americans wear masks when they are out in public, though he stressed that the guidelines were voluntary, and said he would not wear a mask himself. On April 15, Cuomo signed an executive order requiring New York residents to wear face coverings in public settings where they are not able to stay six feet away from other people, including buses, subways, sidewalks, and grocery stores.
Los Angeles has also ordered residents to wear masks when visiting essential businesses.The guidance on masks seems to be driven in part by concern about the number of asymptomatic individuals who may be infected and transmitting the virus. Speaking on April 5, Fauci estimated that between 25 and 50 percent of those infected with the virus may not experience any symptoms.
If you have symptoms associated with coronavirus — coughing, fever, respiratory issues — call your doctor before showing up at their office: The virus is highly contagious and you want to limit the possibility of spreading it. If you are sick, the CDC recommends that you stay home and self-isolate, confining yourself to one room as much as possible and wearing a face mask when you have to interact with others. Wash your hands frequently
— soap and water and at least 20 seconds of scrubbing — and avoid touching shared household items, cleaning "high-touch" surfaces (like your phone) regularly. Your health-care provider and even local health department will help you determine how long it's appropriate for you to keep up these precautions.Regardless of whether or not you have symptoms, though, keep your hands clean, and seriously, stop touching your face and just stay home.
The day we meet is the day the first coronavirus case has been confirmed in his area, but Sebastian says that while his family have seen all the news about the virus, their reality remains the same."Being undocumented it's hard to get medical attention. There's the aspect of presenting yourself to the legal system at medical facilities and that runs the risk of deportation," he says."My family may not be criminals, but they sure are undocumented and seeing a doctor scares them."For everyone in the US, whether they are undocumented or not, there is also the huge expense involved in even just seeing a doctor.
More than 27 million people in America have no medical insurance at all, a number that has been growing dramatically during the Trump presidency.A consultation with a doctor for someone without insurance costs hundreds of dollars.But there are tens of millions more who are classed as being "underinsured" – having basic insurance that often only covers a fraction of the cost of any check ups or treatment."During the flu season we are getting sick a lot, but taking my children to see their paediatrician costs $100 each visit just for a check," says Lisa Rubio, 28, who has basic health insurance through her employer.
"I started with a cough and a sore throat a week ago, but if the doctor tells me they can't prescribe anything, that it's just a virus, I have to decide whether it's worth it to take away money from my bills and my children's other needs."Last year, being underinsured contributed to a devastating episode for Lisa."I got sick. I felt pain coming in my chest. But for me to go see a doctor even though I am insured, I couldn't afford it so I tried to ignore the pain.
""Two weeks later, in the middle of the night, my lung just collapsed completely. They had to do intensive care but said if I had caught it sooner, it would have been better," she says.Lisa suffers these problems even though she herself is an administrator in a hospital in Tucson.Dr Grivois-Shah says that even before the coronavirus, the huge number of patients going undiagnosed with HIV or other sexually transmitted infections was just one example of the public health crises being exacerbated because so many have no access to healthcare.
"I have not seen any evidence that anything is going to be different with the coronavirus," he says, unconvinced by the promises from Washington."For decades, we've been okay as a society knowing that there are so many in our community who are uninsured, underinsured, undocumented and unable to take sick leave," he says."These individuals without access to care are going to get sicker, are going to spread the disease more frequently because they're not getting care or isolating, or getting diagnosed and treated. And we are going to pay the public health price because of what our society is okay with."As it sweeps across nations, the coronavirus is exposing systemic flaws.
In China, it was freedom of information; here in the US it is the massive disparities in the way people are treated depending on their economic circumstances and their immigration status.The coronavirus of course does not discriminate on those grounds and having large sections of society being unable to see a doctor is suddenly in focus as not just being bad for the individuals themselves, but for the country a whole.
Join to Chat